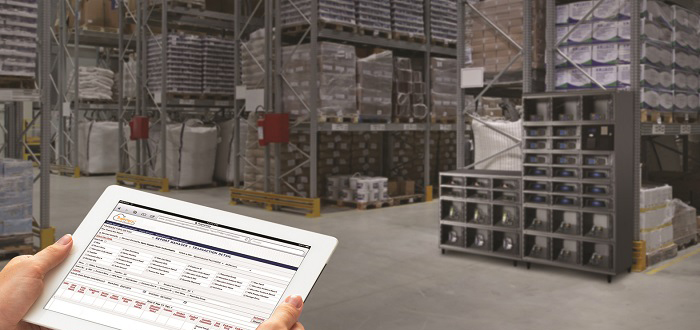 Apex celebrates future of industrial vending after 25 years.
Industrial vending goes into its 25th year with a promising industry outlook according to a leading industry spokesperson.
Industrial vending began 25 years ago with a single patent issued to Kent Savage, founder and CEO of Apex Supply Chain Technologies, on 27th April 1993. U.S. Patent 5,205,436 was for Savage's "Machine Tool Dispensing Device and System" which was created to automatically dispense cutting tools and other items at a Ford Motor Company manufacturing plant. The pre-Internet solution included a dispensing device hardwired to a controller physically located on site. A DOS-based computer controlled device access, operated the system's controls and processed data to track inventory levels and to help ensure items would be refilled in a timely manner.
Industrial vending, otherwise referred to as self-serve automation, helps to improve productivity and profitability by monitoring and controlling the dispensing of critical assets and components in the supply chain. Since the 1990s though, industrial vending technology has advanced significantly and today uses the internet, cloud computing, and IoT sensors.
The technology is always expanding into new applications and industries, whether it is industrial distributors using smart bins to ensure there is always sufficient stock of important components, to smart lockers being used in the supply chain to manage mobile devices such as handheld scanners. The technology also has great benefits for consumer-facing applications within retail and food service.
Despite being established for 25 years, the industrial vending sector has significant growth potential with many businesses relying on industrial vending to keep operations moving and costs down. Today, there are nearly 250,000 self-serve, automated devices deployed globally.
Kent Savage, founder and CEO at Apex Supply Chain Technologies, sees parallels in the long-term growth of self-serve automation technology and the evolution of the PC.
"With billions of PCs sold, it's a ubiquitous consumer technology," says Savage. "But initial demand for the PC was vastly underestimated. Similarly, self-serve automation's ongoing evolution makes the technology easier to use, to implement and to afford. We'll see tens of millions of devices deployed in the next decade or two, fueled by innovations across industries and applications."
Instrumental in the future of industrial vending is responding to consumer expectations, especially in the retail sector. Automated click and collect and returns lockers are becoming commonplace in retail, helping retailers to differentiate themselves and offering the ultimate in customer convenience.
"Reducing the friction in the consumer's busy, time-starved life is critical," says Savage. "The urgency created by their increasing expectations and the rapid pace of change inspires our ongoing research and development. Apex is already looking at how the data we collect for our customers can help us anticipate customer need and shape our offerings."