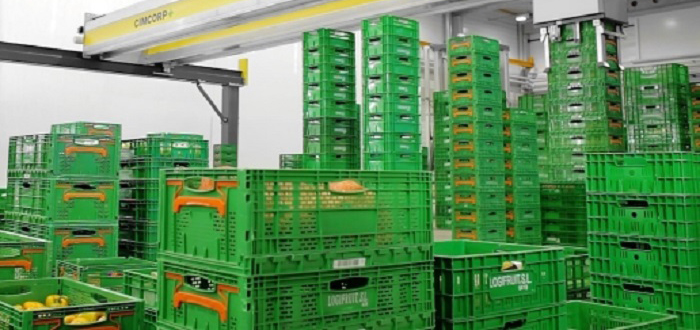 Cimcorp enters Russian distribution market and aims to boost grocery freshness
Logistics automation specialist, Cimcorp, partners with Russian technology integrator, FL Group, to offer its robotic solutions to customers in Russia
In response to growing demand for increased speed in fresh produce logistics, leading automation supplier, Cimcorp, is entering the Russian distribution market.
Being represented by FL Group, an industrial automation integrator based in St Petersburg, Cimcorp is confident that its solutions will be well received. Commented Kai Tuomisaari, Cimcorp's Vice President, Sales: "Grocery retail distribution in Russia is ripe for automation. Our robotic handling solutions enable retailers to maximize product freshness, which is key to optimizing sales and enhancing the customer experience."
Tatiana Borisova, CEO of FL Group, agrees that the time is right for logistics automation in Russia's grocery sector: "Russian retailers need to respond dynamically to market demands to ensure operational cost efficiency and low pricing, while at the same time providing their customers with high-quality products and services. The quality issue is always critical for fruit and vegetables, which is why I believe that Cimcorp's automation for fresh produce distribution has huge potential in Russia."
Unprecedented demand
Cimcorp has supplied robotic handling systems to retailers such as Mercadona and Colruyt, as well as a number of food and beverage manufacturers, including Kroger, Grupo Bimbo, Valio, Fazer and Carlsberg/Sinebrychoff. The company – which has installations in 40 countries across six continents – is currently experiencing unprecedented levels of enquiries from supermarket chains across Europe.
Maximum shelf life
Using robots that operate from overhead gantries, Cimcorp's modular solutions provide instant access to every SKU, ultra-fast handling and total picking accuracy. "This means shorter lead-times and improved freshness for perishable products," explained Kai Tuomisaari. "Maximized shelf life can secure vital competitive advantage for our clients in the fresh produce, bakery and dairy sectors."
Optimum space utilization
Cimcorp's automation combines buffer storage and order picking in one efficient, flexible and scalable operation. Products are handled gently in plastic crates, which are designed with excellent ventilation and are stacked directly on the floor. By avoiding the need for racking, the system ensures maximum space utilization and also allows the entire working area to be cleared, full automatically, for hygienic cleaning. A standard robotic module – 30m long, 12m wide and 6m tall – is easy to install in existing warehouses, even in city locations. Computer control of all material flows ensures full tracking and traceability.
Key drivers for DC automation
"Robotic handling dramatically reduces operational costs," said Tatiana Borisova, "while ensuring 100% picking accuracy and minimum damage to goods. Added to this is the fact that employees no longer risk strain injuries through the lifting of heavy loads."
In addition to solutions designed for full-crate picking, Cimcorp offers systems for picking layers and cases, as well as single items at goods-to-person picking stations. "Cimcorp's systems are therefore ideal for streamlining intralogistics in a number of sectors," addedTatiana Borisova, "including general retail, e-commerce, fast-moving consumer goods (FMCG) and third-party logistics."
FL Group will promote Cimcorp's solutions at two forthcoming exhibitions in Moscow – Russian Retail Week (3-8 June) and CeMAT Russia (24-26 Sep).