Axis' Graham Swallow looks at how comprehensive network security solutions can protect and support retail logistics as the key shopping period unfolds.
The run up to Christmas is one of the busiest times in the retail calendar, with warehouses and storage facilities stocked with high value goods, destined for the high street or online channels. And every year the retail industry faces the perpetual challenge to keep the stock safe and its distribution chains optimal. But COVID-19 and the resulting disruption to retail patterns from two national lockdowns means more valuable stock is awaiting processing. This introduces considerable uncertainty around how long it might take to transport stock from A to B, and makes it potentially vulnerable to criminals eager to get their hands on poorly guarded goods.
In 2019 total UK retail crime losses were estimated to be around £4,821 million[1]. While it's imperative that retail organisations continually risk assess and take steps to better secure their depots, the capabilities of legacy technologies such as standalone CCTV and manually operated access points are limited, and can no longer be relied on as a comprehensive security solution. Instead, network cameras, combined with other connected IoT technologies, can provide greater levels of surveillance and security, leading to benefits from both an operational and security perspective.
Securing the perimeter
The protection of any distribution centre starts at the perimeter. One of the many challenges is the high number of false alarms or 'false positives' that regularly occur at sites. These are genuine yet unverified alerts, caused by factors other than criminal activity such as a plastic bag blowing within the camera scene, animals or, in a store environment, it could just be personnel failing to follow procedure. This will cause resource being called to a site unnecessarily and usually out of operation hours; long term, this may result in general apathy around the system's capabilities. Furthermore, multiple false callouts without hard evidence of a verifiable incident can result in the police removing a company's designated URN (unique reference number), given to a business to aid quick and efficient incident reporting. The absence of a URN makes reporting a genuine crime that much more difficult.
False positives are a distraction to an organisation's mission, and there are simple changes that can be made to vastly improve deterrent and alerting capabilities at a store or distribution centre site. Higher grade cameras, equipped with built in edge-based analytics will process video within the device itself for more accurate and effective assessment of a situation, minimizing the likelihood of false positives. The addition of radar to complement surveillance can offer additional benefits to security teams. Radar makes it possible to differentiate between people and vehicles, to accurately gauge the direction and speed of an object, ascertain whether it's moving outwards or inwards from the site perimeter, and to plot its position accurately on a site map. Such technology enables security operations teams to have the situational awareness that helps them to make the decision to deploy the right and safest resource.
Protecting goods and people on the inside
Inside each busy centre, operatives deal with high volumes of stock which is usually required to move at pace from A to B. This can, of course, create risks to safety. Network cameras with analytics on board can be employed to monitor space to drive actionable alerts in situations such as traffic which is heading in the wrong direction, fire exits that are blocked with pallets of stock, pedestrians entering unsafe or forbidden areas and much more. Triggering a local pre-recorded audio message, traffic lights and sends alerts to camera operators. This is primarily designed to keep people safe but also helps avoid costly and distracting investigation in the process.
Surveillance cameras integrated with automated barriers, access controlled doors and IP audio can also be used to improve health and safety, helping to enforce protocols relating to COVID-19, such as mask wearing or social distancing. Taking this a stage further, in such a busy environment with lorries and fork lift trucks moving around at pace, automated announcements can be made to warn staff that additional care should be taken in the area, based on real-time data around current activity identified by camera analytics.
Securing sites of any size
Whether protecting a huge distribution warehouse or a small satellite site used by couriers for dropping and collecting parcels, the security of goods, streamlining of operations and protection of people is vitally important. Through the application of high quality solutions, greater safety and loss prevention can be achieved, bringing peace of mind to site managers and even raising morale of staff who might feel uneasy working in an environment that they feel is improperly secured, especially at a time when the goods they deal with are in such high demand.
Partnering with trusted vendors of such solutions is a step towards dramatically improving a retailer's safety and security provision. High quality, data driven, network security systems provide benefits across many aspects of retail operations. Not only do they give decision makers a comprehensive view of the retail operation, but they also represent an important strategic enhancement to support the business over the longer term, enabling them to respond to the threats and challenges of today and also tomorrow.
Learn more about Axis' solutions for industry:
https://www.axis-communications.com/industrysolutions-fortodayandtomorrow
Graham Swallow MSyI CMI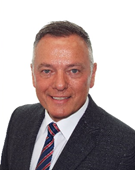 Graham leads the Axis retail segment for Northern Europe.
[1] https://www.retailresearch.org/crime-costs-uk.html