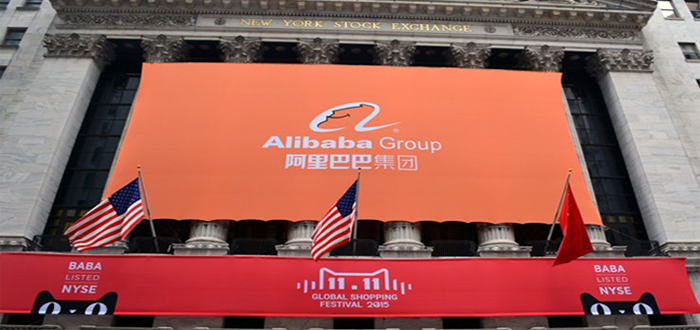 Alibaba's CMO on its ambitions to be the first global Chinese brand.
The Chinese marketplace giant believes its true brand value is "underrated and underestimated" by the Western business world.
Alibaba might be one of the biggest companies in the world but it believes it still has a job to do when it comes to educating brands and consumers about its services and true value.
Speaking to Marketing Week at the Cannes Lions Festival last week, the Chinese brand's CMO Chris Tung shared his thoughts on Kantar Millward Brown's 2017 BrandZ rankings, which rank the world's most valuable brands.
This year's results placed Google firmly at the top, closely followed by Apple and Microsoft. Alibaba, meanwhile, entered the rankings for the first time, placed 14th on the list after its brand value increased 20% year on year. However, Tung is wary of the list because he believes Alibaba should have placed much higher.
"Honestly, I think we are underrated in that ranking. Because when you quote the 20% growth in value, well we've been growing our business by 54% last year, we just projected in the range of 45% to 49% [for the year ahead], and we're already the largest ecommerce platform in the world," he said.
Alibaba's revenue for the year ending 31 March 2017 were $22.99bn (£17.9bn), growing 56% year on year. It has also seen its stock value rise more than 40% since the beginning of 2017.
Understanding Alibaba
Part of the problem is the complexity of the Alibaba business. It operates 25 different business units including online shopping site Taobao and Tmall, a platform for brands to sell their products.
Tung admitted that the brand's relatively new business model "takes time" for people to understand, meaning the brand is often "underestimated". That is something the company is keen to work on.
He explained: "We need to do a better job in terms of making people understand what we do. [Our value] is not just reflected in the Alibaba brand but in the ways we're helping other brands build their businesses, so our business growth is about more than just our self growth."
One way of doing this is by getting the brand in front of consumers more. It has just signed a 12-year sponsorship deal with the International Olympic Committee. While such deals are often about raising awareness, Tung said for Alibaba it is not about "putting the five rings behind our logo", as it is already "pretty well known". He hopes, however, that it could help its expansion into new markets, such as the UK.
"A few leading [British] organisations have approached us exploring what Alibaba can do to elevate the Games digitally, which is a great sign. We're very excited to be able to contribute to the UK in that way. Maybe it's a good starting point, as sport is everybody's passion. That would really start our journey in the UK in an interesting way," he added.
As CMO, Tung looks after Alibaba's portfolio of brands, but he also has to look after third parties and ensure they do business on the platform. "I always joke that I'm babysitting a lot of brands [within my role]," he added.
Tung also admits he has wider ambitions for Alibaba. He wants to help brands "change the game" in terms of how they use data to target consumers, but he also wants to grow the core Alibaba brand to become a "truly global" entity.
He concluded: "I wish to contribute by building a truly global brand from China – to my standard that has never happened before. And we're going to make it happen, we're on our way."