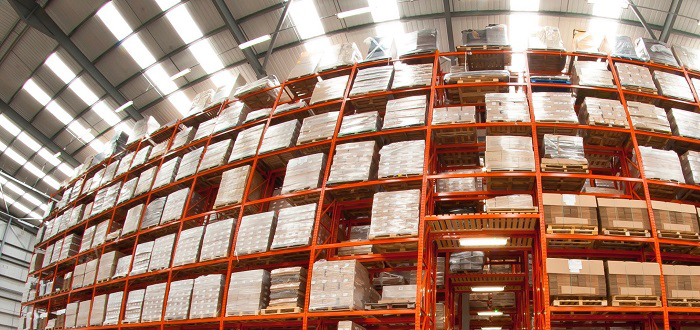 Boosting FMCG supply chain operations.
Fast Moving Consumer Goods (FMCG) by definition must move quickly. This is even more important for companies trading in food & beverages (F&B) as their goods have to reach consumers well within shelf life constraints and in the freshest possible state. Any time that a product is sitting in a warehouse is wasted time.
A simple way F&B companies can tackle this is by reducing stock levels at every stage in their supply chains. A company with one month's worth of product stored in a warehouse would benefit from reducing their stock holding to two weeks' worth of goods – getting their products to market faster, extending shelf life at the retail store and halving storage costs. With good planning, it also means stock levels can be better aligned with buying trends. Sell-by dates are not as critical for consumer goods, but the principle remains.
Optimal stockholding offers benefits all round, but how is it achieved?
One answer is to work with a reputable contract logistics provider with the resources and expertise to turn goods around quickly and the ability to react to fluctuating market trends. They can also provide additional solutions such as freight from origin, last mile delivery and Value Added Services (VAS), such as labelling or date coding. VAS is especially important in the Middle East, where most FMCG goods are imported. All must be customised to meet local and regional regulations before they can be released into the markets.
At GAC, we have developed a wide range of VAS solutions driven by our customers' needs: date and batch-code inkjet printing, Arabic labelling, promotional packaging and repackaging, sleeve and shrink wrapping, quality checking and pre-retail pricing and security tagging. The knock-on effect of introducing strategies to increase stock turn and products spending less time in the warehouse is shrinkage of the time window that contract logistics providers have for VAS functions.
On average, FMCG companies in Dubai see around ten stock turns a year. Some brands or product lines, however, could double that. One of GAC's major customers, a global chocolate and confectionery manufacturer, has key volume lines that can go up to 26 stock turns annually. But how does GAC handle such high activity levels in shortened time frames?
Automation for efficiency and quality
GAC has met the challenge by investing in technology to boost efficiency and achieve stringent turnaround times. The addition of an automated bagging machine at one of GAC Dubai's Contract Logistics food grade VAS rooms in the Jebel Ali Free Zone has facilitated a highly efficient business model for one of its F&B clients. Efficiency does not have to be at the expense of quality. In fact, quality has been boosted with the introduction of the automated bagging machine as hygiene levels are increased through less human touchpoints and accuracy is guaranteed with automatic weight checks at different stages in the production line.
Assets and resources
Today, the 130,000 pallet position GAC Logistics Park in the Jebel Ali Free Zone (JAFZA) is one of the largest and most advanced in the region, including a 30,000 pallet position of warehousing space devoted to F&B. GAC Dubai also has a 1,800sqm dedicated co-packing facility at the JAFZA, including three temperature-controlled food-grade chambers for customisation activities.
Furthermore, construction of the company's newest contract logistics facility, close to Al Maktoum International Airport in Dubai South, is well underway with completion due by the end of 2017. When operational, it will bring GAC's total storage capacity in Dubai alone to more than 200,000 pallet positions serving local and regional customers. And then there is the fleet of 30 temperature-controlled and GPS-enabled trucks that deliver the goods to market.
GAC's strong assets, experience and forward-looking attitude have established it as a trusted name in the Middle East's Contract Logistics field. Investment in modernisation and automation have also earned GAC the coveted FMCG Supply Chain Management Award in the Logistics Middle East Awards 2017.
Contract logistics providers play an important role in your supply chain. The right logistics partner should feel like your right-hand man, helping you in every step of the way. Choose your partner carefully. First published at: www.arabiansupplychain.com