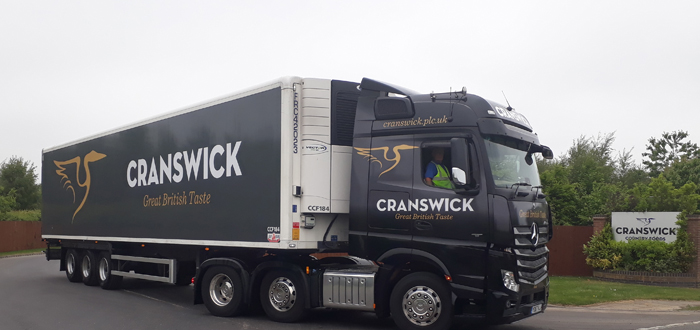 Cranswick Chooses Intelligent Telematics For Connected Vehicle Camera Solution.
Cranswick, one of the UK's leading food producers of pork and chicken products, has teamed up with Intelligent Telematics to roll-out a connected vehicle camera solution across its transport operation. A fleet of 79 HGVs will be fitted with the industry-leading SureCam device to provide greater visibility over live transfers and customer deliveries, while enhancing driver behaviour and capturing video evidence in the event of a serious road incident.
The SureCam vehicle cameras will enable Cranswick to view any driving incident that has occurred within its transport operation, so it can understand immediately exactly who is at fault and take appropriate action. Any collisions or near misses will generate a live alert, with HD footage and supporting vehicle data captured and automatically transmitted within moments of it happening. This will provide increased protection against fraudulent insurance claims, false driving allegations and disputed liability, as well as contributing to road safety improvements and ensuring added protection to lone drivers out on the road.
"The SureCam devices will provide us with full visibility of any situation within seconds, so we can respond immediately to avoid unnecessary insurance costs, improve fleet efficiency and mitigate any risks facing our business," explains Dale Middleton, Transport Manager at Cranswick plc. "We also take our ethical responsibilities to employees, customers, suppliers and the communities we operate in very seriously, so we will be using the connected cameras to target road safety and sustainability improvements within the business."
Sam Footer, Partnership and Marketing Director at Intelligent Telematics said: "Our connected camera solutions ensure immediate and secure access to video evidence in the event of a driving incident, providing proof of what really happened. We are working with an increasing number of SME and blue-chip organisations to help them take advantage of the added insight provided by our SureCam devices, so they can operate in a profitable, compliant and socially responsible way."