DSV win Road Freight Operator of the Year award at Multimodal 2019
On Tuesday 18th June, the FTA Multimodal Awards were held at the VOX, Resorts World at the NEC, hosted by Steve Davies OBE. More than 500 invited guests attended the prestigious event following the first day of Multimodal 2019.
The event recognises and rewards excellence in air, road, rail, maritime, and freight forwarding services and are predominantly voted for by readers of the Multimodal newsletter, as well as FTA members and Multimodal exhibitors. DSV were proud to have been nominated in two categories including 3PL of the Year which DSV won back in 2017.
On the night, DSV were delighted to win the Road Freight Operator of the Year award in a category which is voted for by shippers and manufacturers as opposed to a panel of judges, it is a very impressive win.
Chris Malyon – Senior Director commented "This is a particularly important award to win as it is voted for by people who utilise and understand the logistics industry. This win recognises the hard work and effort of our staff in the UK by providing our clients with the highest possible level of service. We would like to thank all of those that took the time to vote for us."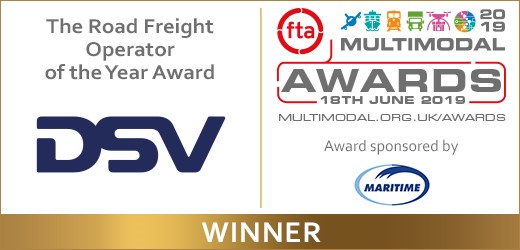 Find out more about DSV
Email: [email protected] or go to www.uk.dsv.com.