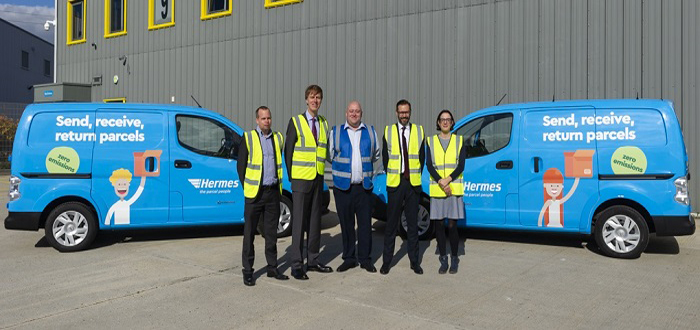 HERMES CELEBRATES RECORD-BREAKING VOLUME DURING SUCCESSFUL PEAK
Hermes UK, the consumer delivery specialist, has experienced its most successful peak season to date, which included the busiest day in the company's history. The organisation handled in excess of 39.5 million parcels during December 2018 alone.
The milestone day fell on Friday 30th November when Hermes processed 1.9 million parcels, exceeding 2017's total of 1.6 million items handled in a single day. Not only did the company process record volumes during the peak season, but it also achieved exceptional service levels, recording in excess of 99% for standard deliveries and 97% for Next Day deliveries, its highest total for a peak season and comfortably surpassing the industry average.
To prepare for the 2018 peak season, Hermes invested heavily in its network and infrastructure to increase capacity and operational efficiency, which included the opening of its 80,000 square foot parcel distribution depot in Hemel Hempstead. In the lead up to its annual busy period, Hermes also sourced over 400 additional trailers, more than 410 additional vehicles, spent £2.5m in sortation equipment, assets and scanning devices, on-boarded 2,000+ people across its hub and depot networks, recruited more 6,100 additional couriers, and opened more than 60 sub depots.
Martijn de Lange, CEO of Hermes, said: "Our significant planning and investments have resulted in our strongest peak season to date. We achieved yet another year of record-breaking Christmas volume, taking on volumes which have never been seen by a private parcel carrier before and dealing with them admirably, thanks to our robust network, infrastructure and the dedication, hard work and brilliance of our people. Our strong performance at this critical time of year is also testament to the partnerships developed with you, our valued clients. Without this collaboration, our success would not be possible. I'm pleased to say that our positively trending customer satisfaction scores further reflect this. We're excited to take things up a level in 2019 as we continue to strive for improvement through innovation as the consumer's carrier of choice."