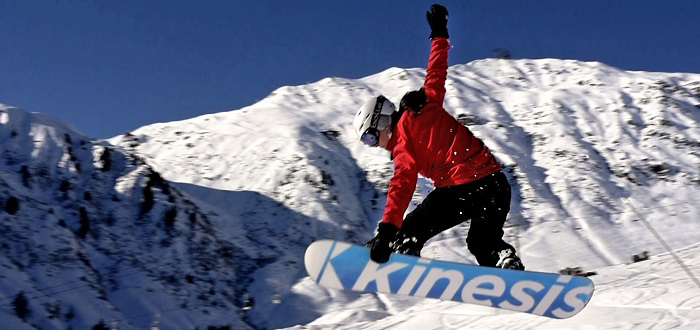 Kinesis Telematics Keeps Athlete Zoe Gillings-Brier On Track for Winter Olympic Success.
Kinesis, the Crewe-based vehicle tracking company, is sponsoring medal winning snowboarder, Zoe Gillings-Brier, as she prepares for the 2018 Winter Olympics. As part of the deal, Kinesis vehicle tracking was installed in British Snowboard Team's (GBX) support vehicles providing real time GPS enabled live monitoring of the vehicles' exact locations. Additional intelligence, such as driver performance monitoring, integrated vehicle checks and real time alerts can all be accessed by athletes, trainers and team managers via an easy to use app or the Kinesis dashboard.
"Snowboard X is not just about speed, it's about timing, control, intelligence and support, and is therefore very much like driving" commented Zoe Gillings-Brier, "The partnership with Kinesis gives me, and the support team, the back-up we need boosted by real time intelligence about location, performance and external factors that may impact on our rigorous training programme."
Zoe is Great Britain's number 1 Snowboard X athlete. With seven World Cup podiums, three winter Olympic Games and many more multi-national titles to her name Zoe, at only 29 years of age, is the GB's most successful Snowboard X athlete of all time. Snowboard X pits 6 athletes against each other as they race down a mountain course of jumps and turns, a bit like motocross, and the fastest to the bottom wins.
"It is an honour to be working with Zoe and the British Snowboard Team (GBX) in the run up to the 2018 Winter Olympics," added Greville Coe, Group Managing Director at Kinesis Telematics. "The training programme these athletes undertake is tremendously hard with long days in the gym and on the slopes. Using Kinesis the team can make the most of each hour in the day, reducing the time spent on the road and improving the safety of their mobile operation."
Kinesis provides reliable data to track driver performance, productivity and progress. At a glance users can access detailed information on every journey taken, including start and finishing times, mileage and route taken. Additional features include driver performance monitoring, fuel use insight with integrated fuel cards, vehicle health monitoring and real time location and event alerts. All information can be accessed at anytime from anywhere using the Kinesis app or business dashboard.
A short video showing Zoe in action on her Kinesis branded snow board is available on video sharing website Vimeo: https://vimeo.com/252543157