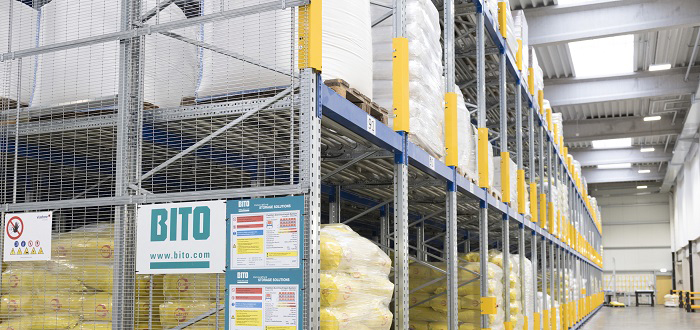 Live storage helps Miavit save hundreds of thousands of Euros.
Animal feed producer Miavit saves hundreds of thousands of Euros with the help of BITO's PROflow Active pallet live storage, which also gives smooth and safe pallet handling.
Leading storage and materials handling company BITO has installed its PROflow Active pallet live storage system in Miavit's new distribution centre. The system is helping the animal feed producer save hundreds of thousands of Euros at their distribution centre in Essen, Germany, which Miavit established to minimise delivery times and eliminate pick errors.
PROflow Active's key benefit is that instead of using brake rollers the pallet live lanes are equipped with motorised rollers, which help pallet start-up and control travel speed within the lanes. This maximises pallet availability at the pick face and guarantees that pressure sensitive goods are not damaged. Being motorised, the lane rollers allow the facility to operate with 50 per cent of the usual lane incline, thus creating room to accommodate more pallets. This has resulted in Miavit saving hundreds of thousands of Euros.
Miavit, which is an abbreviation of 'mineral nutrients, amino acids and vitamins', is a leading provider of animal feed in Germany. Today, the company's product range includes animal feed in tablet, powder or liquid form, feed additives, premixed feed, special feed and pet food. Growing success has seen export share grow to 50 per cent of the entire business volume.
"We supply customers around the world from our site at Essen", says Alexander Schröer, head of the Miavit technical department. However, the family-owned company, which employs 360 staff, hit a limit with its existing distribution centre.
Switching from manual to automated handling
"We operate several manufacturing plants", explains Schröer. "Most customer orders were picked more or less manually". This was the problem, because apart from an error rate that was too high, there was not enough space in the existing halls for the introduction of lift trucks. For this reason, the company management decided to build a new distribution centre. "One of our main concerns was to collate the premixed feeds coming from various plants into customer-ready orders. The aim was to cut down delivery times as far as possible and, above all, eliminate pick errors," says Schröer.
After examining solutions from various providers, Miavit opted for BITO, having previously worked with the company on a narrow aisle facility. To facilitate company growth, the new Miavit project was larger and more demanding: the envisaged facility was to accommodate various pallet types carrying different load carriers with products of different bulk density. "Bulk good density can be anything from loose to compact," Schröer explains. It became obvious at a very early stage that a pallet live storage facility was the best solution for Miavit's needs.
A major consideration was that on account of the lane slope, pallets would tend to run into each other, causing damage to pressure sensitive products, particularly in the case of overhanging pallet loads. "Another important aspect was that the product range also includes hazardous goods. This meant that from a certain racking height, strict safety regulations had to be observed, which included sprinkler installation," says Schröer.
Continuous goods flow guaranteed
BITO's PROflow active pallet live storage was soon established as the ideal solution. The advantage of this system is that rather than being gravity-driven, pallets move from the loading to the picking side with the help of electrically powered conveyor rollers. Each pallet position is supplied with one active roller. This intelligent roller triggers pallet start-up at the beginning of a lane and regulates pallet speed within the lane. In addition, drive sensors monitor pallet spacing to prevent pallets running into each other. "This allows us to reduce lane incline from the usual 4 per cent to 2 per cent," explains Alexander Lang, BITO product manager.
The space saving is considerable: a smaller lane incline often enables an additional storage level, which in Miavit's case means its three-tier pallet live storage facility is no more than 7.5 metres high. Thanks to the reduced facility height, Miavit was not obliged to install sprinklers, thus saving money.
Another advantage of the system is that pallets, no matter what their weight, move at a constant speed on BITO active rollers. This means that lightweight pallets as well as heavier units of up to 1,500 kg can be loaded into the same lane without risking in-lane jams. According to Lang, this BITO innovation gives customers greater flexibility for their storage and handling needs.
Faster throughput
Alexander Schröer is very pleased with the three-tier live storage facility and its 30 lanes. "There are no dividing service aisles within the racking block," he says. "This increases storage density and maximises space." As soon as goods come in, they are transported from swap trailers to the conveyor belts by lift trucks. The system scans the barcodes and checks pallet weight and quality. Pallets are then moved on conveyor belts to the stacker crane at the loading side of the racking block and are automatically loaded into the correct lane. They travel gently down the lane without the risk of getting stuck because every pallet position has been equipped with one active roller.
When a pallet is retrieved at the picking side by a lift truck, PROflow Active sensors will delay subsequent pallet movement down the lane by 10 seconds before the next pallet moves into the front pallet position. This means that pallets can be safely retrieved without lane pressure.
"Thanks to the PROflow Active system, pallets can be supplied in less time to our production lines," says Alexander Schröer, adding that some 50 pallets a day can now be handled in the new logistics centre. He concludes proudly: "Within a few months after our pallet live racking block went into service, our capacity utilisation ratio was at 85%."