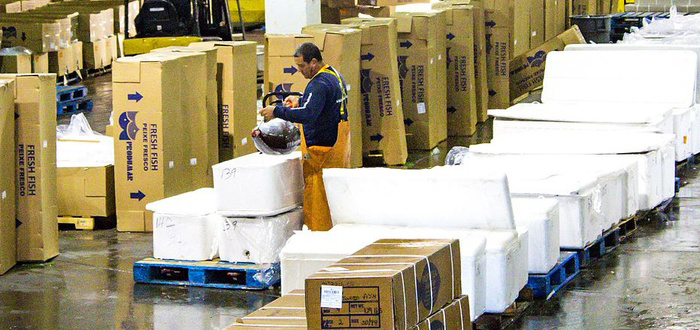 Ponden Home selects BluJay Solutions to Power Enhanced e-Commerce Experience.
Homeware arm of EWM Group adopts BluJay's drop ship solution to expand its distribution range and offer a greater retail experience.
BluJay Solutions, a leading provider of supply chain software and services powered by the world's first Global Trade Network, welcomes its newest customer, Ponden Home Interiors. The homeware arm of the Edinburgh Woollen Mill Group, which operates across design, retail, and distribution, will implement BluJay's Commerce solution to improve customer experience significantly over the next 18 months.
Ponden Home services customers across the UK, with the EWM Group having offices in England, Wales, and Scotland, and has a rich portfolio of fashion and homeware brands. However, issues with the logistics and scale of return meant that under Ponden's previous system, it could not supply certain larger items, such as beds, mattresses and garden furniture. The company required an efficient drop ship solution to help it streamline order processing costs and expand the product choice on offer to their customers online.
To address these issues, Ponden Home has selected BluJay's Commerce solution, an automated, cloud-based order fulfilment platform that enables retailers to dispatch products directly from their suppliers to end customers. The drop ship solution will reduce the core costs involved, allowing Ponden to supply these items to its customers, making for a greater customer experience with a wider range of products and availability.
As a result of implementing the drop ship model, Ponden Home will significantly scale up e-commerce revenue over the next few months by expanding the digital aspects of its service. It expects to treble its e-commerce business and has a clear pathway to success with BluJay's solution in place.
"We found the support that we received essential in getting the project off the ground," said Colin Smith, Head of Merchandising at Ponden Home. "We had one designated contact dealing with our account, which made the whole process much easier and more personal. Our contact was exceptionally quick in responding to all of our queries and was happy to deal with them directly when needed.
"Ponden aims to deliver a high-quality service to all of its customers. BluJay's drop ship solution will help us ensure that our customers have access to a wider range of products, as well as enabling us to closely manage the delivery process from start to finish."
Through the use of BluJay's solution, Ponden will drive higher traffic on its e-commerce website, and plans to capitalise on that increased digital footfall to launch higher-price-point products. BluJay is helping Ponden grow its core business and build its competitive advantage within today's crowded online retailing landscape.
Sian Hopwood, Senior Vice President B2B at BluJay, commented: "Drop shipping is an increasingly important retail fulfilment method that streamlines the entire supply chain and, as a result, makes the delivery proces much more efficient from warehouse to last mile. We are delighted that we are able to work together with Ponden to help it expand its distribution range and significantly improve its online retail experience."
More than $50 billion of freight is moved annually through BluJay's Global Trade Network, including more than 4.5 billion parcel shipments. With BluJay's Commerce solution, customers dispatch millions of items, seamlessly increase suppliers and orders, and dramatically reduce their order-to-delivery time.
This latest implementation builds on Ponden's previous success with BluJay's Electronic Data Interchange (EDI) solution, which enables Ponden to directly dispatch and deliver to stores without additional administration costs. With this existing relationship in place, it had full confidence in BluJay's implementation process and the high-quality service it needed to reach its expansion targets.