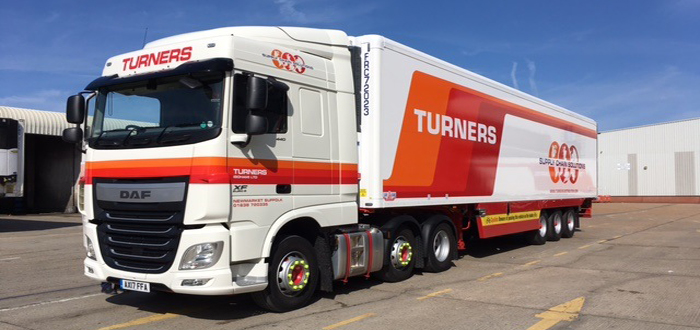 Significant fuel efficiency benefits leads to long-term deal with Turners.
The Isotrak Group, encompassing the combined Isotrak and Verilocation businesses, has announced its continued relationship with Turners (Soham) Ltd for a further five years. A provider of telematics solutions to Turners since 2011, the Isotrak Group has helped Turners to achieve significant improvements in fuel consumption since its implementation, firmly underpinning the company's drive to ensure maximum fleet efficiency throughout the group.
With a fleet comprising 1200 HGVs, 700 trailers and 11 LCVs, Turners is one of the largest haulage companies in the UK, which provides supply chain solutions for transport and warehousing. Alongside implementing Isotrak's Journey Management solution used for scheduling and route planning, Turner's primary aim for integrating the telematics system was for the company's fuel programme. Using Isotrak's CANbus system, Turners has been able to effectively monitor, manage and improve driving efficiency across its fleet. Drivers are debriefed weekly on five parameters relating to fuel efficiency and they share the benefit of improved driving style.
Fuel programme manager for Turners, Terry Skelton said: "Since implementing the Isotrak ATMSi solution back in 2011, we have worked closely with the data to empower our drivers to maximise their earnings whilst sustaining Carbon Reductions. The Group's achievements has been recognised with two consecutive annual awards from the Logistics Carbon Reduction Scheme; in 2013 – 'Carbon Reduction through Fuel Efficiency' and 2014 – 'Most Innovative Fleet Management'. This is a remarkable achievement, but there's more to be done and the relationship with Isotrak Group gives us the opportunity to significantly enhance our Driver Coaching capabilities and increase our effectiveness."
Skelton continued: "Currently a significant percentage of our driver community receive a weekly driving performance bonus linked to a number of driving styles set against varying standards of achievement. The Isotrak data allows us to continually strive for further improvements with new and existing drivers. Closely coupled to our Driver Safety Programme and the added support this provides, we aim to a make Turners the company of choice for LGV drivers.
We're pleased to be investing in and partnering with the Isotrak Group and look forward to the realisation of our joint work and the further benefits it will bring for our driver communities."
Isotrak Group chairman Jim Sumner commented: "We are thrilled to be a continued service provider to Turners and believe that the combined business strengths of Isotrak and Verilocation, together with outstanding service delivery, will further support their objective to offer a portfolio of quality services that exceeds the ever-increasing demands of the modern logistics environment."