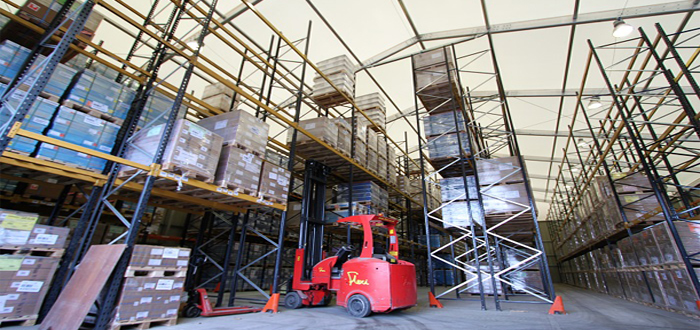 Temporary structures represent a viable and highly cost-efficient solution for many firms who find that they have outgrown their existing storage units, says John Maguire, commercial director of intralogistics solutions specialist Narrow Aisle and a former chairman of the leading logistics trade body, the United Kingdom Warehousing Association.
Typically, temporary or semi-permanent warehouse structures feature an aluminium frame fixed to a concrete base. The frame is clad with single skin steel panels and topped with an insulated roof to produce buildings that are weather-proof watertight and highly suitable for storing ambient dry goods.
They're quick to erect and, with good quality logistics property in short supply, more and more companies who find themselves outgrowing their existing units see temporary buildings as a cost-effective and agile solution to their mounting storage capacity problems.
If you are considering a temporary solution it's important to give some thought to the materials handling equipment (MHE) that will operate within the facility from the outset because when it comes to controlling the cost of each pallet stored, efficient handling and optimum use of space are as essential in a temporary structure as they are in a permanent building.
For example, the additional storage capacity might mean that you will need to augment your lift truck fleet with extra units to maximise throughput efficiency across your operation. If this is the case, does your forklift supplier offer a competitive short-term rental package to meet your needs and does the company's rental fleet comprise modern and well maintained equipment?
You should also examine your existing MHE to ensure that it has the design and build qualities needed to operate effectively within the temporary store. Some reach trucks, for example, could be unsuited to travelling across any outside space that separates your existing store and the new structure, making them incapable of switching between the two facilities.
In addition, because the floor of a temporary facility will often be an existing car park or yard surface, consider if your MHE will be able to operate effectively on such terrain.
The models in the range of Flexi articulated forklift truck-based intralogistics solutions offered by Narrow Aisle Ltd complement temporary structures perfectly. Flexi trucks can operate both within and outside the storage building and their ability to load and unload lorries and deliver pallets directly to the racking in a single operation means double handling and the costs associated with running a bigger truck fleet than is necessary are eliminated.
Every Flexi is equipped with treaded super elastic rubber tyres to allow operation on most yard surfaces and the trucks' ability to operate in aisleways as narrow as 1.6 metres and lift pallet loads to heights of over 13 metres, means that users are able to achieve optimum storage capacity within their temporary space.
One company that combines temporary storage with Flexi truck technology to beneficial effect is Cam Store Limited. They turned to leading temporary building specialist, Spaciotempo, to increase their storage space as the business grew and storage space became an issue. They needed a quick, cost effective temporary building solution to keep up with customer demand. But with demand continuously fluctuating they needed a temporary warehouse which was also flexible but not financially encumbering.
Temporary structures are becoming increasingly recognised as a solution to the UK and Ireland's warehouse property crisis, but like any building whose primary function is the storage of goods, their cost-effectiveness is enhanced if the most appropriate intralogistics technology and storage systems are deployed within them.
www.flexi.co.uk