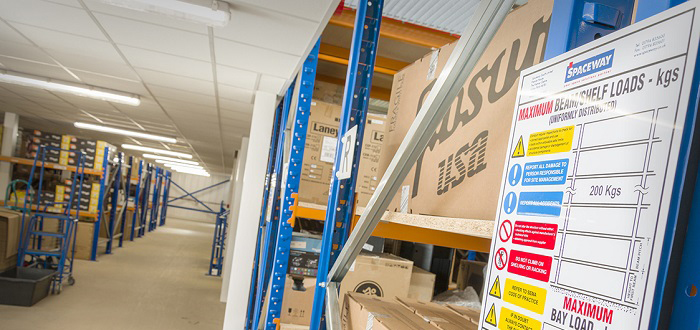 The Christmas countdown is on – are you warehouse ready?
With a generation emerging that knows it can buy pretty much anything with just a few clicks, the continued rise in online shopping is having a big impact on warehouse space. Charlie Jeary, Director at Spaceway, design and build industrial construction specialists, looks at the ever-increasing rise in online sales and why now is the time to think about how you're going to store and dispatch all orders placed in the run up to Christmas.
September sees children returning to school and the focus for many will turn towards December 25th. Online sales around the festive period have rocketed over the years. Last year, IMRG research found that purchases made on smartphones were up 47% year on year in December. E-retail is expected to continue this growth this year by as much as 14%, with consumers clicking 'Buy' from desktops, tablets and phones all over the globe.
One retailer who has seen its online sales explode is Andertons Music. Due to this boom, the music retailer soon outgrew its old premises and after maximising every cubic inch of space, it was time to seek a new warehouse to accommodate the rising business.
Andertons were faced with a new and empty warehouse, and having worked with Spaceway in the past, it was a natural fit for the team to undertake the design and installation of the new warehouse transformation.
Spaceway designed a total solution which included the installation of a three-tier mezzanine floor, taking the space from 30,000sq.ft to 90,000sq.ft. Carousels, conveyer belts and multi-level pallet gates were used to get large, small, heavy and light products in and out of the warehouse.
Frank Hillin, Project Manager at Spaceway said: "With Andertons supplying products in a vast variety of sizes, we needed to install a racking and storage system which would provide ultimate efficiency and simplicity because every product is hand picked.
"One of the instrumental elements to ensure operational efficiency is maximised was the sophisticated smart conveyer system which was installed and spans all three floors of the warehouse."
Spaceway also installed high bay pallet units, pallet gates to aid the movement of the larger and more bulkier items between floors and a racking and shelving system which provided ease of restocking the picking lines. In addition, bespoke racking was also manufactured to fit around the conveyer system. When asked about the installation of the conveyer and racking, Frank said: "It fitted in like a glove."
Moving to new premises isn't the only way to maximise space to increase your operational efficiency. Having worked with Andertons for over ten years, Spaceway provided excellent innovative space saving solutions. However, with such rapid business growth, Andertons Music were faced with no choice but to seek additional square footage. They had simply outgrown their previous warehouse.
Moving to a new warehouse this side of Christmas is probably not at the top of the agenda and efforts will be focused on servicing and delivering to customers in the run up to the festive period. With clever design and careful planning, it is possible to gain the extra space your business needs to ease the strain over the holiday period. Spaceway is so confident it can increase any workspace, it has raised the gauntlet with its double your workspace challenge. Visit www.spaceway.co.uk to find out more.