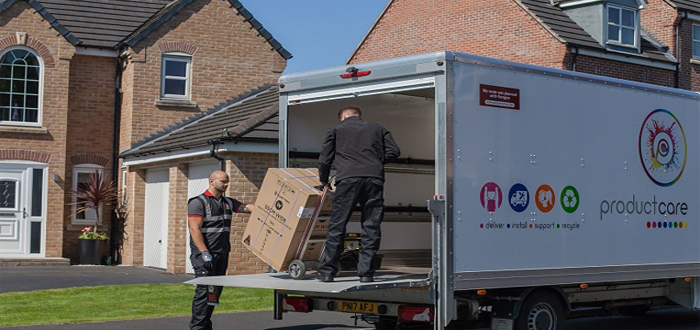 The Future of Last Mile Logistics.
Logistics of today
With the continued rise of online shopping, customers expect their purchases to arrive faster than ever before. Next-day delivery has become the norm, with same day delivery options increasingly common. This means online suppliers need to ensure their warehouse equipment and supply chain are updated constantly to meet the growing demands of the customer and stay ahead of the competition.
We've spoken to two companies, Mindful Chef and Trouva, who are at the forefront of this more demanding supply chain and looked at predictions for the future of last mile logistics.
Meeting a growing demand
When it comes to the speed and efficiency of deliveries, customers' expectations are ever-growing. With this, companies are focusing their attention on improving the efficiency of their logistical operations. Certain delivery companies are already outsourcing the last mile to independent delivery drivers – this can be anyone local with a car or a bike.
The need for shorter delivery times has arisen due to the uptake of faster grocery delivery windows – sometimes within two hours. This, in turn, is driving customer demands for quicker delivery as standard with all online purchases.
What do our experts think?
Trouva and Mindful Chef have very different needs when it comes to last mile logistics. Nevertheless, they both had the same idea of speed and efficiency with their current delivery systems.
How do you currently handle your deliveries?
Mindful Chef
"We believe that the customer has a better delivery experience when we are able to be involved closely with the last mile. Because of this, we have full visibility when it comes to routing, courier loads, ETAs etc and this allows us to pre-empt any problems and deal with customer queries much more efficiently."
Trouva
"We think about how we can provide the customer with the same delivery service they're used to getting from the traditional network when they're buying from independent boutiques. We ensure everything is as easy and as clear as possible for the customer – just because the logistics chain is complicated for the retailer doesn't mean it has to be for the customer."
What can other companies learn from your approach to deliveries?
Trouva
"We meet with our logistics advisors regularly, so we can see the data across all of our boutiques and when it's getting really busy and we can monitor that closely. We manage couriers from lots of different companies and make decisions about moving orders to a different courier to speed up the
shipping. We can look across the whole network in a way one small business could never do. We can see what's happening with the customers, we can see what's happening with the boutiques and we can tweak the system to make sure we're making the right decisions across the network."
Mindful Chef
"I think that, especially for brands attempting to position themselves at the premium end of the market, having the ability to manage the last mile part of the e-commerce experience is a differentiator. The customer experience starts at the website or on social media but does not end with a sale, and being able to maintain high standards all the way through to the end of the experience means that customers will be more consistently pleased with their purchase."
Logistics of tomorrow
In the near future, autonomous vehicles will be at the forefront of future deliveries, with up to 80% of all items being delivered this wayi.
The two most likely solutions to automated delivery are:
Drones – These will be capable of carrying packages up to 15kg and will be able to take the most direct route to the item's final destination. The drones will be able to travel at relatively high speeds and fulfil orders quickly. This means they are the most likely choice for quicker delivery services such as one-hour delivery. They will need to be monitored.
Autonomous Ground Vehicles (AVGs) – These will essentially be mobile parcel lockers, monitored from a central control point and following a set delivery route. Customers will be notified of the time the vehicle will reach them and be expected to collect their items from a specific locker on the AVG.
What do our experts think?
For Mindful Chef and Trouva, customer experience will continue to be at the centre of their delivery processes, and making things better for the customer will continue to be the priority.
Do you have any plans to make your delivery system even more efficient?
Mindful Chef
"We would like to make our loading process even sleeker, so drivers can get on the road faster – meaning they are happier and boxes are out of the cold chain for less time. We aim to incorporate a live ETA/tracking feature into our customer account portal to improve the experience on the customer side. Finally, we are looking into things like refrigerated vans (they are very expensive) and on-demand delivery – something which would be a first in the recipe box space."
Trouva
"We have a lot of data, so we can prepare the boutiques we work with. We let them know what sort of products are selling well and subsequently what kind of volumes of orders they might be getting a day. So, then they can make sure they're buying the right number of products and set themselves up for success."
How do you see delivery technology changing in the next five years?
Trouva
"There's going to be a big shift. At the moment it seems everyone has been focused on how to get things to the customers quickly and efficiently, the focus is on functionality. Making sure the customer has full visibility of all shipping costs and delivery options is quickly becoming more important. Customer expectations are getting higher and higher, and meeting these expectations should be at the forefront of a business."
Mindful Chef
"I see it improving customer visibility. Customers will all be able to re-route deliveries to parcel shops, track the delivery van in real time etc. At the moment, there is one company leading the tech side for couriers in the UK, but I see their tech as being standard inside five years. Despite well-publicised trials with drones, I don't see this being a big thing in cities due to the density, but could be an effective way to carry out deliveries at low cost to more remote locations.
Finally, I think packaging innovations will be important in keeping food fresh and goods in the condition in which they are meant to be received. The e-commerce industry is so huge that innovation in packaging will be richly rewarded and so should have brainpower and capital diverted
What next?
As we witnessed during the rise of e-commerce shopping, companies that fail to be early adopters of these new technologies are likely to suffer in the long run. As customers' expectations get higher, companies who are willing to take the leap and be early adopters of autonomous delivery technology will no doubt see the benefits in future. to it."
For more insight visit: https://www.rajapack.co.uk/blog-uk/future-of-last-mile-logistics/
https://www.mckinsey.com/industries/travel-transport-and-logistics/our-insights/how-customer-demands-are-reshaping-last-mile-delivery
Experts Bios
Glen Walker – COO
Trouva is an online marketplace with a unique focus on independent boutiques. The world of independent boutiques offers something really unique and special. Customers were craving the products these boutiques offer, but were used to the fast service you would expect from larger e-commerce sites.
Having previous experience working with some of the biggest retailers in the world, the team at Trouva realised that the ones who were good at technology were having huge success and the ones that weren't good at working with new technology were really struggling.
They saw the opportunity to bring the two together.
Bertrand Nicoli – Director of Operations
Myles, Giles and Rob are the three co-founders behind Mindful Chef. They all grew up close to each other in Devon, sharing a passion for food and, in particular, healthy eating. Looking to the US where the recipe box concept was catching on, they decided to replicate the model. They had the idea that providing customers with something that was harder to get than just regular groceries. They started out of an apartment and a small warehouse in Wandsworth shipping 11 boxes in the first week in London and the rest is history!
Mindful Chef are fully gluten and dairy free and are aimed at the 'healthy' niche of the market. With a focus on sourcing the best quality produce possible, using traditional farming methods for vegetables and high welfare standards across all meat. They also offer the only vegan box in the UK.