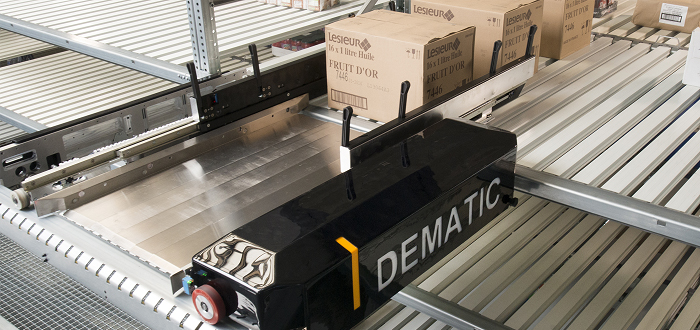 DEMATIC INTRODUCES SOLUTION FOR TEMPERATURE-CONTROLLED GROCERY ENVIRONMENTS
Release of Freezer Version of Dematic Multishuttle® 2
Dematic, a leading global supplier of integrated automated technology, software and services to optimize the supply chain, today announces a new automated solution for cold chain order fulfillment. Proper handling of refrigerated and frozen goods is one of the most challenging tasks in order fulfillment. With the addition of Dematic Multishuttle 2 Freezer, Dematic now offers a complete line of solutions for the cold chain market.
"Our focus continues to be on reducing operating costs for our customers," says Roger Stubbs, Senior Product Manager at Dematic. "The grocery and food production industries are especially competitive and automation can create an advantage. The Dematic Multishuttle 2 Freezer application offers a high-density, low energy cost solution designed specifically to meet cold chain challenges and return profits quickly."
Specific benefits of Dematic Multishuttle 2 Freezer solution include:
Reduced energy use and refrigeration costs
Decreased labor requirements
Improved product handling and FIFO rotation
Increased inventory accuracy and full shipment traceability
Dematic Multishuttle is an automated storage buffer for cartons, totes, trays, containers and individual bundles. All variations of the Multishuttle (static and flex) can now operate at temperatures as low as -30°C (-22°F), which offers grocers and food manufacturers a full range of energy efficient, high density and high throughput storage solutions for ambient, refrigerated and freezer environments.