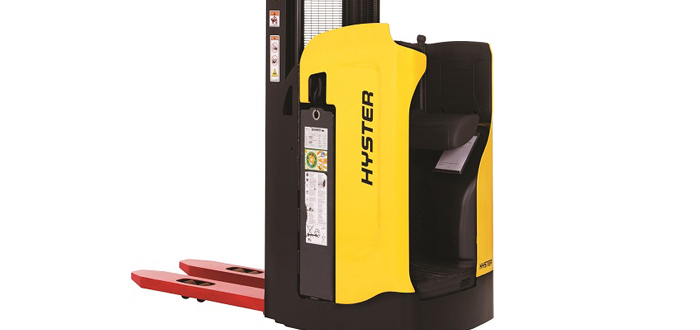 NEW HYSTER® RIDER STACKER TRUCK HELPS MANAGE VARIABLE DEMAND .
Hyster Europe adds a new Rider Stacker truck to its warehouse equipment range, providing more options for busy warehouse operations that experience variable demand, such as those in distribution, food and drink, retail and logistics.
"The tough new Hyster® RS1.6 Rider Stacker truck has been designed to support demanding warehouse operations, especially in tight confines," explains Monica Radavelli, Product Manager – Warehouse for Hyster. "As we approach the festive season, this reliable truck will help many applications to manage the increased intensity of their operation due to seasonal demand."
Commonly used for stacking goods up to 1.6 tonnes in single and multiple shift applications, and back-of-store warehouse operations, Hyster® Rider Stacker trucks are designed for working in small spaces. Available with 2- or 3-stage masts and offering a lift height of more than 6 metres, the truck can work in aisle widths as small as 2.5 metres.
The Hyster® Rider Stacker truck also meets the needs of mixed applications, such as warehouse picking. The new Hyster® RS1.6 model can function as a medium-distance platform stacker and a long-distance rider stacker. This means that operations carrying out varied applications may no longer need to choose between two types of machine for different tasks.
To further ensure that businesses can specify the right truck for the particular needs of their industry or application, a number of bespoke options are available for the Hyster® RS1.6, including key pad access, support for telematics display and attachments for holding clipboards, drinks, and more.
"A cold store version is available to help food and drink manufacturing or wholesale applications," explains Monica. "While a busy retail warehouse with high racking, or an operation handling heavy loads at height, can consider a choice of overhead guard protection add-ons."
To help aid efficiency at particularly busy times, and during long shifts, the Hyster® RS1.6 offers enhanced operator comfort and control. The truck offers extensive visibility through the mast, and a choice of three driving positions to cater to the preferences of the operator or the application. The operator can easily adjust the seat from a supported standing position for loading and unloading, to a supported perch. With an award-winning seat design, a fully seated position can be effortlessly adopted for travelling medium or long distances.
Particularly in the run up to peak times like Christmas and Easter, many companies, such as retail, food and drink manufacturing, wholesale, logistics and couriers, experience an increase in demand. The tough Hyster® RS1.6 stacker keeps up with the high demands of a warehouse at peak times, with a travel speed (both laden and unladen) of up to 9 km/h and fast lift and lowering speeds.
The RS1.6 gives strong performance, with speed sensitive 180° electric steering and AC traction and steering motors. It can also operate in tight warehouse spaces, with a turning radius of just 1640 mm (with 1150 mm forks) making it suitable for a 2536 mm working aisle. This provides even greater benefit at peak times when warehouses can become overstocked and the available space for manoeuvre may be more limited.
"Equipment should be available to use whenever required, especially during busier periods," says Monica. "The Hyster® RS1.6 is designed to be sturdy and reliable, providing a low total cost of ownership in the most demanding warehouse applications."
To ensure minimal downtime for any routine or unplanned maintenance, it is also designed to offer excellent serviceability. It features comprehensive fault diagnostics, and a hinged floor plate that enables easy access for checking key components and oil levels. For multi-shift operations, lateral battery extraction also helps to reduce the downtime usually associated with battery exchange.