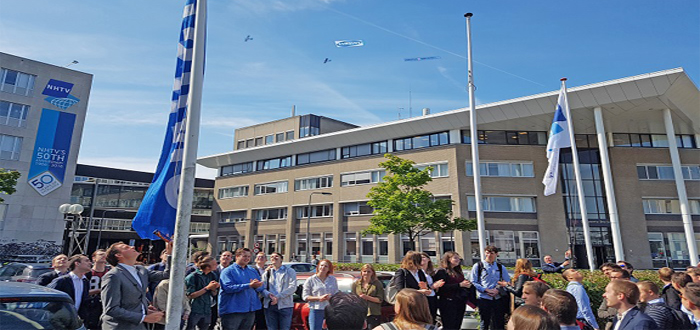 Launch NHTV Minor in Modern Supply Chain with Samsung.
Due to the big success of the first edition, the Academy for Urban Development, Logistics & Mobility of NHTV Breda is going to launch a new Minor in the Modern Supply Chain with Samsung SDS Europe Logistics. This Minor was launched during a fun event on 4 September.
Innovative solutions
In the coming academic year, 50 fourth-year students studying Logistics & Economics and Logistics Engineering will be working as 'consultants' on six research themes. The six themes are Human Resource Management, Data & Information Management, Production, Logistics, Marketing & Sales, and Finance, and the students will be analysing current issues facing Samsung SDS Europe in these areas in order to come up with innovative solutions.
Samsung wants to achieve significant growth in its market share in Europe, and that means the entire supply chain will have to be redesigned. The NHTV 'consultants' are going to help Samsung with this process. Over the coming 20 weeks, they will be gathering up-to-date information about Samsung's operations, and use challenging case material to develop innovative ideas, which will then be presented to the executive board of Samsung. The chosen possible solutions will then be worked out in more detail and presented to Samsung SDS Europe as a pre-packaged solution.
Launch event on 4 September
The students started the day with a visit to Samsung in Tilburg. They were then given an introductory briefing about this Minor course and the Samsung business case. The official launch took place at Claudius Prinsenlaan 12 in Breda at 12.30 hours. Logistics programme manager Albert Mandemakers, and the Deputy President of Samsung SDS Smart Logistics Robert van der Waal raised the flag while two planes pulling banners announcing the partnership between the two partners flew overhead.
About NHTV Breda University of Applied Sciences
NHTV is a university of applied sciences with about 7,000 students from over 100 countries. It is situated in the south of the Netherlands, in the city of Breda. NHTV was founded in 1966 as an institute offering bachelor's programmes in tourism and leisure and in this field, it is the largest and leading education institution in the world. New (academic) bachelor's and master's programmes have been developed since then. With a focus on the development of academic knowledge and the promotion of sound professional practice, the specialist disciplines of NHTV are: Games, Media, Hotel, Facility, Logistics, Built Environment, Tourism and Leisure & Events.