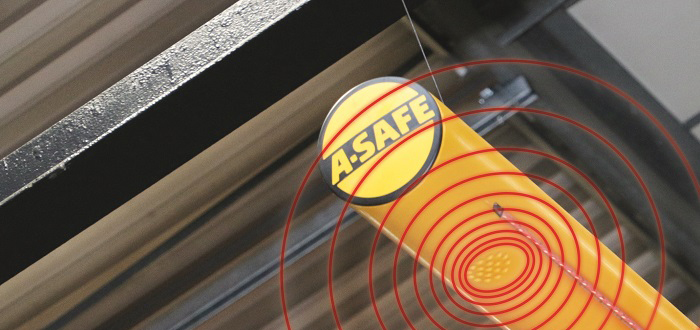 Raising the bar on overhead damage prevention.
Workplace safety innovators, A-SAFE, are pushing impact aversion solutions to new heights of technological sophistication.
This newest addition to the A-SAFE range protects low hanging infrastructure in environments where high-level vehicles such as forklift trucks are in operation. It is used to safeguard doorframes, loading docks, infrastructure and overhead walkways, as well as key safety assets such as sprinkler systems and ventilation pipes. The appropriately named Alarm Bar marries a significant audible alarm with bright red flashing lights to ensure that it is virtually impossible to ignore its warning.
Patented sensor technology mitigates the risk of nuisance tripping "A common problem our customers encounter with alert systems across their facilities is false alarms. This can be caused by day-to-day traffic movement of heavy vehicles and operation of machinery; as well as wind currents. To solve this our electronics engineers developed a powerful new type of electronics technology, never before applied to the safety industry" explains A-SAFE's Head of Technologies.
The product has the customers' needs at its heart. It is quick and easy to install and fully height adjustable thanks to heavy duty wires and adjustable gripple hooks. Its use of battery power also means it can be positioned anywhere on site – with no need to rely on access to a power source. Achieving a two-year battery life, maintenance is kept to a minimum and the plug-and-play battery adaptor makes replacing the batteries a simple task. Thanks to the self-coloured and UV-stabilised polymer composition exclusive to A-SAFE, high visibility is maintained and its inbuilt strength and durability further supports the "fit and forget" solution. This enables warehouse and factory managers to concentrate on the job at hand, safe in the knowledge the technology is doing what it can to safeguard the business assets both in terms of people and property.
As the inventors of the world's first industrial strength polymer safety barrier, A-SAFE's aim across its entire range is to give each customer the tools to create a safer, best practice working environment. "One installed, drivers become more aware of risks, changing behaviours and avoiding incidents before they occur. This gives immediate collision prevention with long-term safety gains" adds A-SAFE's Head of Technologies.